La Porte, TX (July 28, 2021) - Investigators in La Porte are currently searching for the cause of a dangerous leak of around 100,000 pounds of acetic acid at a chemical plant in Texas. The incident occurred on Tuesday night and took two lives. Thirty workers were also injured, according to information from officials.
Sources describe the event as a "mass casualty incident" that happened at the La Porte facility of LyondellBasell at approximately 7:35 p.m. Tuesday, July 27. Of the 30 hospitalized workers, one suffered burns while the remainder had respiratory complications.
In addition to two deaths at the scene, two others were in critical condition according to Harris County officials. Twenty-four workers were treated and released. Government agencies along with law enforcement officials are currently investigating the circumstances of the accident.
The complex is the world's third-largest producer of glacial acetic acid. Acetic acid can be used to create plastics, fibers, paints, film, inks, and cosmetics, to name a few. It is a flammable liquid that has the potential to cause severe burns to the skin and damage to the eyes.
At approximately 5:15 a.m. Wednesday, LyondellBasell stated that the leak had been isolated and contained. A quote from a company spokesperson stated that approximately 100,000 pounds of a mixture including acetic acid, was released.
Air monitoring conducted while the incident was taking place did not indicate noticeable levels, however, monitoring continues to be ongoing at this time. Officials from LyondellBasell continue to investigate the circumstances of the incident.
Our thoughts are with those involved in hopes of a full recovery. We would like to offer our sincere condolences to the family of the deceased at this time.
Premises Liability in Texas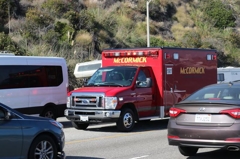 When you or a loved one of yours sustains injuries due to a defect on another person's property, usually a business, a Premises Liability claim may arise. Usually held against the owner of the premises, Premises Liability claims may also be brought against whoever was controlling the premises at the time the injury was sustained. Premises Liability covers any defect that can result in injury. The personal injury attorneys in Houston at Farah Law have worked with numerous injured parties affected by a vast array of defects that have put people's health and safety at risk. A Premises Liability claim in Houston may be brought forth if the victim is able to prove the following four elements:
The person who owns or controls the property at the time of injury was aware of the condition which caused the injury.

An unreasonable threat to health and safety was posed by the condition

Reasonable care in order to reduce or eliminate the risk was not taken by the owner/controller of the property

The risk was the direct cause of the injuries suffered
If you or a loved one of yours has sustained injuries due to the negligent or reckless actions of a property owner or business in Houston, contact the Premises Liability attorneys in Houston at Farah Law. We are here to help you through this difficult situation. You may be entitled to significant financial compensation for your injuries and resulting losses. Contact our office today at 888-481-9359 to get started on your free consultation.
Note: These posts are generated through the use of secondary sources for Farah Law. These sources include but are not limited to local news sources, newspaper articles, local and state police blotters, social media platforms, and more. The information and details surrounding this crash have not been independently verified by our writing staff. If you find any information that is incorrect, please contact us right away so that we can make the necessary changes to reflect the most accurate information available. If you would like this post to be removed, we will do so upon request.
Disclaimer: We have worked hard to build a solid and reputable personal injury law firm in Houston, Texas. We write these posts in an effort to create awareness about the dangers of operating a motor vehicle and hope that through awareness, people will drive with additional caution to avoid being seriously injured in an accident in Houston and throughout Texas. These posts should not be deemed as a solicitation for business. The facts and information in these posts should not be misconstrued as legal or medical advice. The pictures used in this post were not taken at the accident scene.